MOve and Grow Physiotherapy
We are dedicated to improving the quality of people's lives and assisting them to achieve their goals through tailored support unique to the individual.

Move & Grow Physiotherapy provides flexible, family-oriented, evidence-based physiotherapy services to people living with disability and their support networks in the Townsville and Burdekin regions.

Our care is client-centred. Our relationship with our clients and their families are fore in the provision of our services. We believe mutual respect and trust creates the open, safe and caring environment that is necessary to achieve real and measurable results for our clients that make a quantifiable difference in their lives.
Our vision is for a community in which people lead their best lives. At Move & Grow Physiotherapy we aim to:
Challenge ourselves to provide the unique and appropriate solutions to our client's individual needs
Encourage and promote the health of our community
Increase our capacity to provide services to more people
Support the development of new therapists and students
Extend our capacity to help others in need across the world
Lucy
Robinson
Principle Physiotherapist
Lucy Robinson is the owner and principle physiotherapist at Move and Grow Physiotherapy. 
After graduating from James Cook University, Lucy worked to develop the physiotherapy service within Disability Services, first in Cairns, then Townsville. Paediatric physiotherapy had not been available in these locations previously, so setting up the service was a significant learning curve! Lucy has always had a special interest in all aspects of child development and enjoys working with families to reach their goals in unique situations.
In 2014, Lucy spent nine months in Vietnam and Cambodia volunteering as a physiotherapist to support and teach parents and staff at a free drop in physiotherapy centre for children with a disability. She also worked with carers and children with disabilities in orphanages in Vietnam and a physiotherapy clinic seeing both children and adults in Cambodia. Move and Grow Physiotherapy continues to support the drop in centre in Vietnam by collecting and sending equipment and resources no longer needed by Australian families to Vietnam.
Lucy is committed to ongoing learning and professional development to maintain a high level of up to date knowledge and skills to best support your family. Since graduating, Lucy has completed courses on paediatric physiotherapy, hydrotherapy, Neurodevelopmental Therapy (Bobath), yoga for kids, postural splinting, breath control and animal assisted therapy. Lucy is keen to use a variety of skills and treatments to tailor therapy sessions to each individual while keeping appointments for kids as play based and fun as possible! 
Lukas joined the Move and Grow Physiotherapy team in early 2020, after graduating from James Cook University. With previous experience working as a disability support worker, Lukas is passionate about inclusion and supporting children to achieve their goals. He enjoys trying different creative and fun ways to explore movement, various sports, and the outdoors with clients – both individually and in group sessions.
Lukas believes that every child should have the opportunity to have fun and succeed, while developing skills, confidence and a passion for health and physical activity. His special interests include working with children with hypermobility and connective tissue disorders, autism spectrum disorder (ASD), ADHD, and supporting children experiencing pain.
Outside of work, Lukas is passionate about exercise, the outdoors, and various creative pursuits. He describes himself as honest, easy going and a "jack of all trades". He enjoys trying new and different hobbies, while encouraging others to do the same. Currently these include rock climbing, martial arts, creative writing, painting, reading and boardgames.
Abby Frankland joined our team in late 2020 as an Allied Health Assistant before moving into her permanent Physiotherapist position in 2021.
Abby has a passion for all things Physiotherapy and a keen interest in paediatrics. With a kind and individualised approach to each case, Abby dedicates time to establishing relationships and ensuring a patient and family centred approach. 
During her James Cook University placement, Abby had the pleasure of working at a special school in Brisbane which fostered her interest and enthusiasm for in working in the paediatric space. 
In Abby's spare time, she enjoys playing netball, exploring our beautiful Townsville region, and spending quality time with her family and friends. 
Melissa takes care of our accounts and office administration on a part-time basis.
Melissa has a Bachelor of Business and extensive experience spanning business administration and management, human resources and systems improvement.  Her current main role is raising her two young sons, who happen to be Lucy's nephews.
Melissa is a valuable addition to our practice management; supporting the team to meet our patients' needs, ensuring the practice is run efficiently and assisting in our commitment to provide high quality care.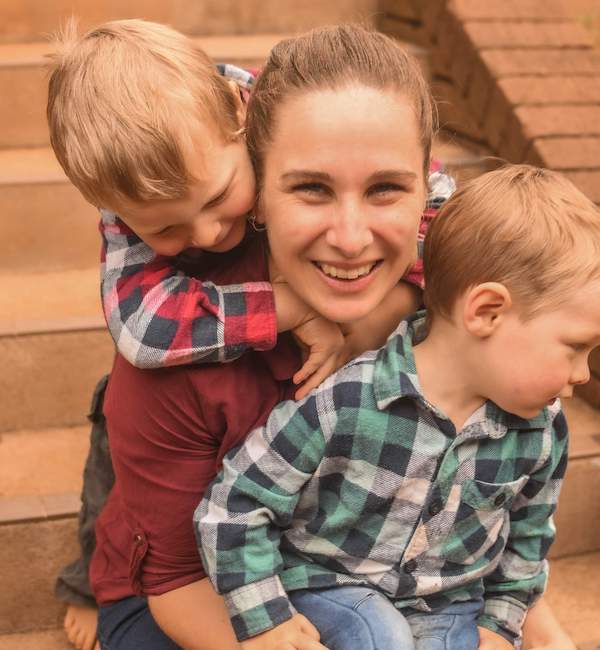 Chilli (brown and TRIpawd) and Toro (black and fluffy) are our resident Therapy Dogs.
In 2018 Chilli and Lucy completed an animal assisted therapy course and became certified as a therapy animal team allowing Chilli to attend appointments to help motivate and reward clients. Toro has just started his training with aims to graduate when he turns 2. 
Research has shown that dogs to help reduce stress and lower self reported pain scores, making Therapy Dogs a useful addition during stretching activities and some of the less comfortable aspects of physiotherapy.
Both boys enjoy meeting new people and getting pats. They are always happy to pop in at the end of the session and congratulate you on your hard work!